LWETB Organisation at a Glance
Longford and Westmeath Education and Training Board delivers educational services to over 14,000 students and learners annually. The authority employs over 900 staff. It has an average annual budget of €60 million across all its divisions.
The authority has responsibility for: 8 post-primary schools, 3 Adult Guidance centres, 12 Further Education and Training centres, Music Generation and Youth Services accommodating community groups in approximately 50 locations throughout Longford and Westmeath.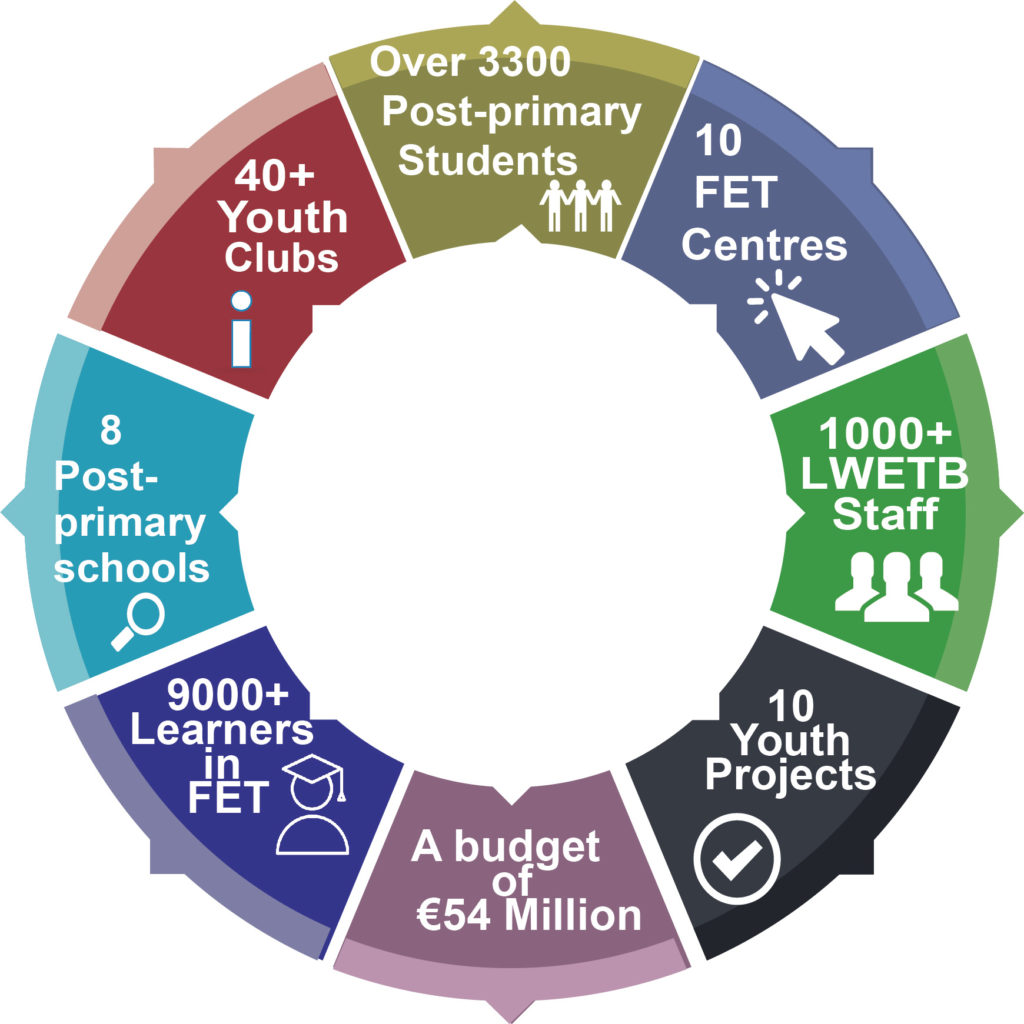 Our Mission, Vision, Values
Learner Centred; We place the learner at the centre of everything we do

Celebrates Inclusion; We celebrate equality and welcome all learners

Acts with Integrity; We operate in a manner that is ethical, transparent and accountable

Leads with Innovation; We lead innovation by fostering new ideas and promoting creativity
LWETB Organisation Structure
The work of Longford and Westmeath Education and Training Board is structured across three pillars; Organisation Support and Development, Schools and Further Education and Training, with the Director of each pillar reporting to the Chief Executive.
Statutory Responsibilities
a) establish and maintain recognised schools, centres for education and education or training facilities in its functional area,
b) when directed to do so by the Minister:
i. establish and maintain recognised schools in its functional area,
ii. establish and maintain centres for education in its functional area,
iii. maintain centres for education or recognised schools in its functional area, and
iv. establish, maintain or resource education or training facilities in its functional area,
c) plan, provide, coordinate and review the provision of education and training, including education and training for the purpose of employment, and services ancillary thereto in its functional area in:
i. recognised schools or centres for education maintained by it,
ii. education or training facilities maintained or resourced by it,
iii. children detention schools,
iv. prisons, and
v. facilities maintained by other public service bodies,
d) enter into arrangements with, and provide support services to, education or training providers,
e) establish scholarships,
f) adopt a strategy statement,
g) adopt an annual service plan,
h) cooperate with anybody nominated to carry out internal audit functions,
i) provide education and training at the request of, and on behalf of, anybody which funds training out of money provided to that body by the Oireachtas,
j) support the provision, coordination, administration and assessment of youth work services in its functional area and provide such
information as may be requested by the Minister for Children and Youth Affairs in relation to such support, and
k) assess whether the manner in which it performs its functions is economical, efficient and effective.
To deliver professional, high quality, learner-centred education and training services.
To enhance the learning experiences and outcomes for learners.
To foster effective communication, collaboration and partnerships.
To progress the development of effective organisational structures.
To support a culture of continuous development with staff.
Strategy Statement 2022 - 2026
Longford and Westmeath Education and Training Board has prepared a Strategy Statement 2022-2026. This document is a high-level statement which sets out the direction for LWETB over the next five years. 
Click here to view a copy, which is in both English and Irish.